Every book. Every Series.
While I have tried to ensure that every book in the Drift world are standalone reads, there are times when the series do crossover, with characters making cameos and plots that occurred in one book or series having effects in others. So, here is a list of the reading order of all three series into 2021.
Winner Takes All will release this summer. Her Alien Forgemasters is out this fall, and Operation Sundown will be out near the end of the year.
And yes. Winner Takes All happens at the same time as the events of Operation Artemis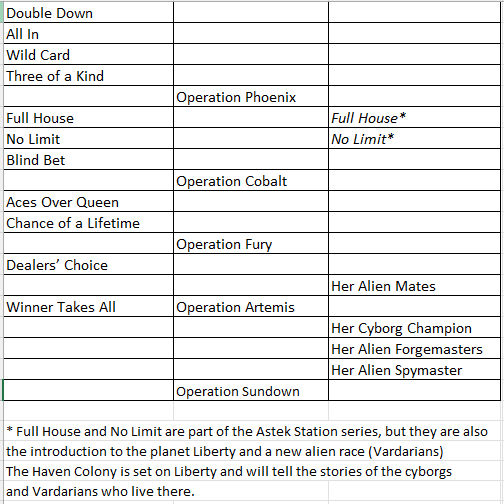 And a Text version of the list in case the image doesn't load.
Double Down
All In
Wild Card
Three of a Kind
Operation Phoenix (Nova Force)
Full House**
No Limit**
Blind Bet
Operation Cobalt (Nova Force)
Aces Over Queen
Chance of a Lifetime
Operation Fury (Nova Force)
Dealers' Choice
Her Alien Mates (Haven Colony)
Operation Artemis (Nova Force)
Winner Takes All
Her Cyborg Champion
Her Alien Forgemasters
Her Alien Spymaster
Operation Sunset
**Full House and No Limit are part of the original Drift: Astek Station series, but they are also the introduction points for my Haven Colony series. They tell the story of how the planet was colonized, where the cyborgs at the colony came from, and explain the arrival of the Vardarians into this part of the galaxy.