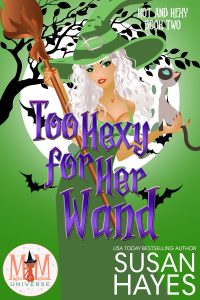 She's forgotten who she was. He can't forget where he came from. Their future is waiting—if they can leave their pasts behind.
Jet-setting witch Fern Summers thinks she has it all—a trust fund, a pedigreed familiar named Tiff-Tiff, and a lifetime of luxury ahead of her. She couldn't be more wrong.
A mysterious letter upends her world, sending her to the west coast and a life she doesn't remember.
Her Mission: Protect a town she's never heard of from dark threats and worse fashion choices.
Her Allies: A familiar with abandonment issues and a sexy wolf-Shifter chef whose meals are almost as delicious as his kisses.
Her Enemies: A power-hungry warlock and a pack of beaver Shifters with a licence to gnaw.
Her Plan: Banish the bad guys, be a better witch, and don't fall for the wolf in black leather, no matter how well he crèmes her brulee.
Join the Mayhem – Pick up your copy of Too Hexy for her Wand HERE or learn about the other amazing new releases in the Magic and Mayhem Universe  HERE
A note from the author: I love this world and simply adore Robyn Peterman, the woman who created this wonderful, madcap universe. I'm so honoured she asked me to be part of this marvellous madness.