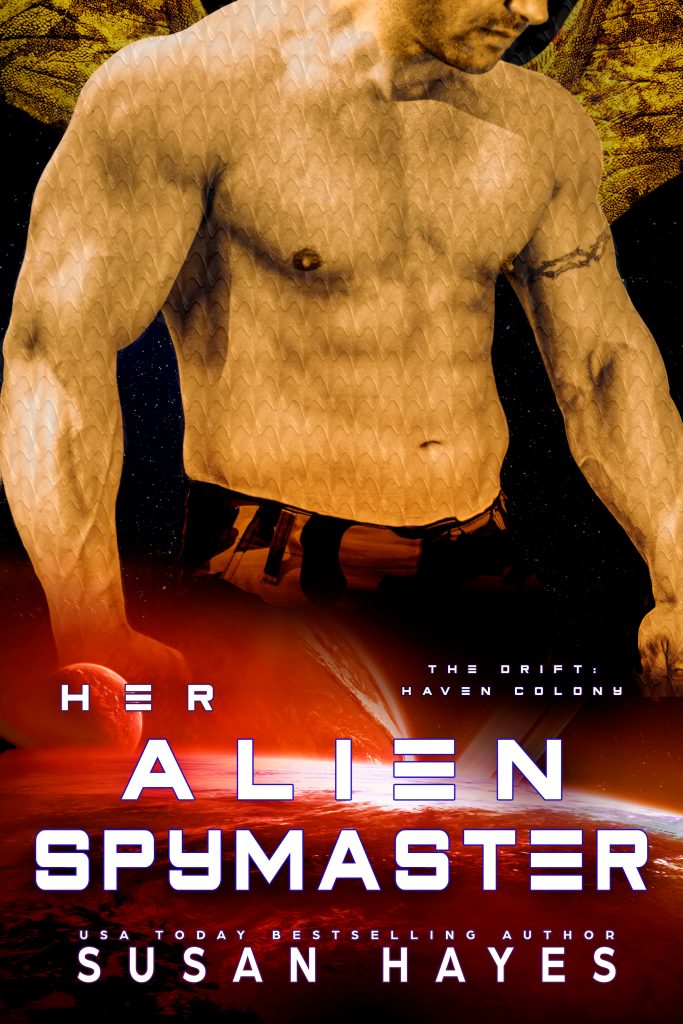 Chapter One
Skye ran as fast as she could manage, which wasn't nearly as fast as she would have liked. The ice and snow on the ground made it impossible to reach anything close to her top speed, but the added difficulty almost made up for it. She'd come out here to burn off some energy and try to find some semblance of calm, but despite the solitude and silence of the wintery woods, she couldn't find even a moment's peace. All she could think about was the threat to Haven colony… her home.
The worst part wasn't the fact there was a threat. She was a fraxxing cyborg after all. She was designed from the DNA up for combat, but she had no idea how to fight against an enemy she couldn't even see. Something was sickening every Vardarian in Haven, and none of them knew if it would spread to the other species that called the colony home.
Nothing about the illness made any sense. The Vardarians were born with cutting edge nanotech that gave them a number of advantages, including accelerated healing and the ability to cleanse their systems of any toxins or viruses. The cyborgs all carried a different kind of nanotech, which they called medi-bots, that provided the same benefits. So why were the Vardarians the only ones getting sick? And why hadn't any of the humans been infected? Most of them hadn't been given the medi-bot treatment yet. They should have been the first to fall ill.
Skye snarled in frustration and increased her pace. Two strides later, her foot hit an icy patch. She skidded, cursed, and caught hold of a tree to prevent herself from falling ass over afterburner.
"Don't get cocky," she muttered her herself. "Or in this case, don't get emotional. Emotions get you just as dead as cockiness." Then she winced. She'd just butchered one of the cyborgs' favorite mottos. Good thing none of them were around to hear what she'd said, or she would never hear the end of it. That was the problem with having cyborgs as friends and family… they never forgot a damned thing and were more than happy to bring up choice tidbits at the most annoying moments.
It's a good thing she loved the rowdy group of survivors who had made it off Reamus Station. If she didn't, she'd have dropped-kicked most of them out an airlock by now.
Once her mind and body both were balanced again, she set off at a slower pace. She enjoyed the stark beauty of the woods when it was blanketed by fluffy frozen water, but the way sound behaved in this environment intrigued her and held her attention.
The crunch and squeak of snow beneath her boots was sharp and immediate. Every exhalation seemed louder than normal, punctuated by the puffs of vapor that accompanied each breath. Other sounds were muffled by the blanket of snow. The wind blowing through the trees and the creak of branches were harder to detect despite her enhanced senses.
She let her mind wander, chasing after stray thoughts until she finally outran her worries, at least for a little while. She'd needed this.
After another few kilometers, she circled back, breaking a new trail instead of following her previous tracks. Her new route would eventually take her to the bridge that linked the two sides of the colony, but it also took her through one of her favorite spots, a wide meadow with a stream running through it. It had been covered in soft green and blue grass with wildflowers the first time she'd seen it. Now, it looked very different. The wind had blown the snow into drifts that looked like frozen waves, piling it up against the trunks of trees along the far side of the field. She saw tracks here and there, most of them from small animals, but something larger had been through here since the last snowfall.
She jogged over and looked at the prints, trying to discern what might have made them. Striker would know, but she didn't want to disturb the big, somewhat grumpy cyborg. They were friends now, but she'd been wary of him at one time. She understood him better now, but that didn't mean she was ready to call him on their internal channels and have a chat about the tracks left by the local wildlife.
Besides, the antisocial cyborg usually had his channels switched off. "What Maggie sees in him I will never understand. When I'm ready to settle down, I'll find someone cheerful, all charm and sass. Yeah." She glanced up at the sky. "That comment was not a request for said male to arrive just yet. I'm still enjoying my freedom, thank you very much."
It was a habit she'd picked up from the human colonists. Most of them believed in one higher being or another, and all of them seemed to look up when they were communicating with them.
She stayed in the field long enough to enjoy the tranquility and capture a few images of the tracks with her onboard optics. Given their size, it had to be either a ghost cat or a kopaki. Both were large predators that had developed a taste for the colony's assorted species of livestock. She'd have to let the rangers know what she'd seen. They'd take care of it once the more immediate crisis was over.
That thought shattered her moment of peace. "I'd take a pack of ghost cats over this damned bug. At least then I'd have something to hit."
She was halfway back when River pinged her over their shared channel. "Skye, I've got an update."
"I'm listening."
"I heard from Maggie. Since the council can't get anything done, we're going a different way. I'm rounding up everyone here and taking them to the Bar None. Meet you there?"
It was the best news she'd heard in days. "I'm already running. Let's see who gets there first."
Skye turned and took off at the fastest speed she could manage. She had no chance of beating River and the others to the bar, but she wouldn't be far behind them. They were going to do something, and that was all she needed to know.
*
At this time of day, the bridge was usually humming with activity. Haven's citizens should be socializing and shopping at the various vendors and market stalls that lined the street, linking the two sides of the colony. Today, though, it was silent and empty. All the shops and stalls were shuttered, and the only sound she heard was the rush of water beneath her feet and the occasional crash as chunks of ice slammed into each other.
She was well onto the bridge before she heard voices. It was no surprise they came from the Bar None. The meeting must be underway already. Good.
She spotted River's vehicle parked nearby. A quick scan showed the engine hadn't started cooling yet. She wasn't far behind them. She knocked the snow from her boots and opened the door. A rush of warm, richly scented air wafted by as she stepped into one of the most comfortable places she knew.
The building wasn't even a year old yet, but somehow this place already felt older and more broken in. Entering the bar was like slipping into her favorite pair of boots. She'd barely crossed the threshold when everyone else erupted into excited cheers.
Hope bloomed, and she raised her voice to be heard above the others. "Does this mean we have a plan?"
The only male present rose from his seat. She recognized him immediately and wondered what the fraxx he was doing here. The prince's spymaster was dour and distrustful, especially when it came to the non-Vardarian citizens of Haven.
She expected him to say something to dampen the mood or point out something they'd all overlooked. Instead, his golden skin lost most of its luster and he crashed to the floor.
Shit.
Phaedra was at his side in a second, concern shadowing her normally sunny expression. "You stubborn fraxxing, idiot. You didn't tell me you were sick, too."
Well, that explained what the spymaster was doing here. He didn't have much love for humans, but Phaedra was the prince's mate. She was also stubborn, impulsive, and resistant to authority. Since her bodyguards weren't present, Yardan had come himself. Phaedra must have loved that.
Yardan waved everyone off. "I'm not sick. I just got up too fast."
Skye scanned him. He had an elevated temperature, a rapid pulse, and several other indicators of illness.
Stubborn fraxxing idiot indeed, she thought and walked over to help him up. She hadn't intended to do that, but she was halfway there before she even realized she was moving.
He glared at her for a few seconds, just long enough for her to wonder if he'd refuse her assistance, but then he took her hand in his and tried to pull himself up.
Skye saw him struggling and simply lifted him off the floor, using her enhanced strength to get him on his feet. That's when it hit her… a subtle rush of warmth and desire. Oh fraxx, no. Him? Now? This couldn't be the sharhal. Surely she'd been close enough to him before today… Her mind raced as she accessed her memory, cross-referencing every time she'd encountered the spymaster or his anrik. Wait. Did he even have one? She checked his wrist for the scar that every other Vardarian male wore with pride. His skin was smooth. No scar. No anrik. No blood-brother to journey through life with. That meant if this was what she thought it was, she wouldn't be the filling in a sexy male sandwich. Pity.
By the time she'd worked through that, though, her memory crosscheck confirmed that the two of them had never been inside the few times they'd attended at the same functions, and they'd never been introduced.
Typical. Her mahoyen had been here all along, and she'd never crossed paths with him until today. She managed a sidelong look at him as he leaned against her. His hair and beard were both dark and closely trimmed, framing a handsome face with a strong jaw and green eyes that glittered with intelligence edged in ice.
Grumpy but good looking—she could work with that.
She draped one of his well-muscled arms over her shoulders and caught him around his waist with the other. "I got you," she told him as she drew his hard body in close to her side.
He shot her a disgruntled look. "Apparently. Damned females shouldn't be that strong. And I'm fine."
Phaedra chimed in before Skye could. "He's not close to fine. Can you help me get him home?"
A moment ago all she wanted was to take on the threat to Haven and find a way to help her adopted home. Strange how quickly things could change. She glanced at Yardan and then nodded. If she was right and they were destined to be mates, she would go with him. Besides, Phaedra would need help running things while both of her mates were down with whatever the fraxx this plague was. "You can fill me in on what's happening on the way."
"Suki, grab our coats. Will you?" Phaedra asked one of the human colonists. Then she picked up Yardan's heavy cloak from the back of his chair and managed to toss it over his shoulders. Phae was too short to place it carefully, so Skye took a moment to adjust it before helping the spymaster outside.
Skye kept expecting him to say something about the sharhal. The Vardarian should be feeling the effects even more than she was. So why hadn't he said anything? She'd been prepared for the possibility that she'd end up mated to a Vardarian. From what she'd seen, it wasn't so bad. Hell, it was probably better this way. Dating wasn't something the survivors of Reamus Station knew much about. She'd enjoyed a few no-strings-attached encounters here in Haven, but that wasn't the same.
She glanced over at Yardan again. All his attention was on Phaedra, walking a few steps ahead of them. Just her fraxxing luck. She finally met her destined mate, and he was too sick to notice her.
Once he was healthy, things would be different. They had to be. Otherwise, she was in trouble. Once triggered, the Vardarian mating fever couldn't be stopped. Either she'd wind up mated or she'd lose herself to madness and death.
She knew which option she'd prefer. The rest was up to Yardan.
***
Ready for more? Her Alien Spymaster releases August 9th. PREORDER NOW