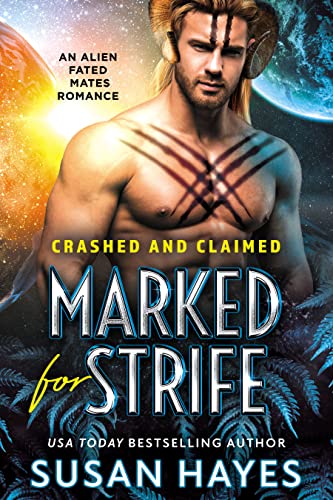 Chapter One
Rissa checked the timer and grunted. She still had ten minutes to go, fifteen if she was serious about burning off that extra slice of cake she'd indulged in before bed. The food on this cruise was the best she'd ever had, and it was worth every extra minute of sweat to enjoy it while she could. In a few more weeks she'd be back to her normal life, where food, water, and even air were carefully rationed commodities.
Life on a space station wasn't easy, but it was the only life she'd ever known. If her number hadn't come up in the annual lottery, she might have spent her entire life on Nanu station. She'd have missed out on discovering the glorious indulgences of spending an entire day at a spa, eating every meal from an endless buffet, and sleeping in a bed the size of a standard living cubby back home.
She also would have gone her whole life not knowing how mind-twistingly terrifying planets were. Not the planets themselves but all the things that came with them—toxic plants, dangerous animals, the inescapable pull of gravity, and worst of all, open sky. Just the thought of it made her miss her footing and nearly stumble off the treadmill.
"That's it. I'm done for the day." She kept hold of the rail with one hand as she slowed the machine down to a gentle walk. At least no one was around to see her nearly fall on her face. A few weeks ago, it would have been thronging with fit, trim women obsessed about every ounce of body fat and running on the treadmills as if all the demons of hell were chasing them with ice cream sundaes and extra fudge sauce… and now she wanted ice cream slathered in ribbons of warm, gooey chocolate and caramel.
She still had dessert on the brain when it all went to the hells in nine hypersonic handcarts. The deck beneath her feet shuddered, the hull creaking in ways that set Rissa's teeth on edge. It was the sound of a ship in pain. She'd heard it plenty of times before, but that had been at the shipyard where she worked, surrounded by teams of professionals with everything they needed to put things right.
They weren't anywhere near her shipyard right now. They were in open space, not the ideal location for their hyperdrive to fail… But that's what was happening.
"Shit!" Training had her running for the engineering deck before she could think. It was instinctive, and she made it out the door of the gym and into the corridor before she remembered she wasn't on duty. She wasn't even a crewmember. She was a passenger, and she didn't even have access to that part of the ship. She stopped running, automatically moving to press against the wall so she wasn't blocking the corridor. With the drive down, they'd have dropped into normal space. That wasn't a problem so long as they weren't too close to a planet or a star.
Klaxons erupted, the noise almost drowning out the captain's orders as she spoke over the ship-wide comms.
Rissa decoded the various alarms. Navigation and proximity alerts screamed as engine failure alarms wailed. Airtight doors slammed shut and locked. That shouldn't happen. Not unless they were… Fuck.
The gym and other amenities were one deck below the passenger quarters, meaning the escape pods were in a different spot. She'd spent years working on ships like these. Hells, she'd even worked on this particular vessel, and she knew exactly where to go. The only other passenger she ran across was dressed in a spa robe and slippers, and she clearly didn't have a clue what to do.
Rissa grabbed the younger woman by the arm and hustled her down the corridor. "This way," she yelled so her words would carry over the alarms.
Hope shot her look of gratitude mixed in with a healthy dollop of fear. "What's happening?" she called back.
The deck bucked beneath them, hard enough to make both of them stumble, but their hold on each other kept them on their feet.
"Bad shit. Maybe an attack." It was impossible to convey much information over the noise, and they needed to move, not talk.
Hope's eyes widened. "Attack?"
All Rissa's worst fears were confirmed a second later. Another alarm wailed, drowning out all the others. The main lights winked out and were replaced by red strobe lights. Shit. It was time to go. The order to abandon ship had gone out.
"Come on! We need to go. Now!" Rissa knew they were running out of time. The ship was under massive stress, and she felt it twist and ripple beneath her feet. It was damaged, crippled, and fighting against a significant source of gravity… and it was losing.
They reached the evac station. The pod doors were all open and waiting. She pushed Hope to the nearest one.
"Sit down and put the harness on. That's all you need to do. The rest is automatic. Just hang on, be smart, and don't go too far from your pod."
Hope gave her a tight, quick nod and ducked inside.
Rissa waited for three long seconds before moving to the next pod in the row. The first pod sealed before she got inside her own. Hope was as safe as Rissa could make her. The rest was up to her.
Once her own pod dropped free of the ship, Rissa got busy. No way would she sit back and let this thing pilot itself. That was fine for someone with no flight training, but she'd been fixing ships most of her life. That meant she knew how to fly them… more or less. Either way, this pod would crash. That's what they were designed for. Her plan was to make sure it crashed as gently as possible.
*
"And this is why I prefer to fly myself." Rissa looked around the clearing she'd chosen as her landing site. She and the pod were both in one piece, and the only damage she'd done to the area was a few scorch marks on the grass-covered ground.
She'd maintained the same trajectory the autopilot had determined. She didn't want to wind up too far away from any other survivors. When rescue came, proximity might make the difference between going home and getting stuck here for the rest of her life. That was not going to happen.
It could turn out to be the nicest planet in existence, but it was still a planet. That meant weather, and animals, and an atmosphere that was only held in place by gravity. No domes, no containment units, and no barriers.
"It's not natural," she grumbled. "At least, not to me." She didn't do nature. The closest she'd come to it was the bio-dome at the heart of Nanu station, but that small area of carefully cultured trees and plants had about as much in common with this place as a candle flame had to a solar flare.
The clearing was covered in some kind of knee-high plant she thought might be called grass. A current of air moved the long blades of orange and gold, making them hiss and rustle. The sound made her uneasy, though she didn't know why.
She kept her eyes on the ground with most of her focus on her feet. That way she couldn't see the sky at all, which helped… a little. She needed to retrieve the emergency supplies stored in the pod and drag them over to the tree line. Under the trees, everything was in shadow, and that meant she'd have another layer between her and the open air.
The trees were strange and nothing like the ones she'd seen in the biosphere. They were the wrong color for one thing. Those trees had been green and blue, but these were very different. Reds and oranges mostly, with a few flashes of golden yellow. The trunks were massive things, gnarled and twisted into thick towers that rose far into the air.
She caught herself looking up, squawked in horror, and dropped her eyes back to the ground again. Vertigo hit, and the next thing she knew, she was on her hands and knees as the world spun around her. She squeezed her eyes shut and dug her fingers into the grass as if that was the only thing stopping her from flying off into space.
When the spinning stopped, she didn't open her eyes right away. She just stayed where she was and tried not to throw up. "I fucking hate planets," she groaned as she waited for the queasiness to subside. Once it had, she hauled herself to her feet and made her way back to the pod. She had shit to do, and the faster she got it done, the sooner she'd be inside her emergency shelter. She needed a roof over her head as quickly as possible.
She dragged everything over to the edge of the clearing and arranged the carton with the emergency shelter so the entrance pointed toward the forest. She followed the instructions printed on the side, doing a sweep to make sure the area was clear of rocks and other debris that might puncture the shelter once she activated it. Then she leaned down and pressed the large button below the instructions. First she heard an explosive whoosh followed by a loud, prolonged hiss of air, and then the shelter inflated. It expanded away from her position, just the way it was supposed to.
Once that was done, she lugged a second container inside, sealed the doorway, and sat down on the floor with a sigh of relief. Yellow had never been her favorite color, but right now the garish Day-Glo shelter was the most beautiful sight she'd ever seen. Now she just had to make herself as comfortable as possible and wait for rescue. Surely that wouldn't take long. Humans weren't signatories to the Galactic Legion's Unified Agreement, but they were recognized as sentient lifeforms. Anyone who heard the Bountiful Harvest's distress beacon would be compelled to offer assistance. It was legion law.
That meant someone would come for them. In fact, they were probably already on their way.
Ready for more? Marked For Strife release May 17th. PREORDER NOW