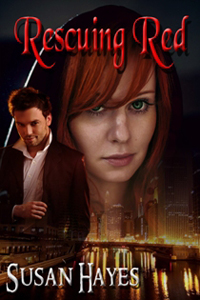 As the future CEO of Forrester Industries, Lucas Forrester has the kind of life most men only dream of. He's travelled the world, brokering deals and sealing contracts that have benefited the company while making a name for himself as a cold, calculating negotiator.
 At work, Luke lives behind his corporate persona, but when a chance encounter with a beautiful and caring stranger brings out his true nature, he finds himself reluctant to go back into hiding.
 Veronica Hood's life will never be mistaken for a fairytale, but she's proud of what she's accomplished so far. After years of planning, she's finally got her own coffee shop, with enough money coming in to stay out of the red and pay for her grandmother's medical bills, too. When Lucas sees her delivering food to the hungry, he appoints himself as her protector, stealing her heart and starting a whirlwind love affair straight out of a storybook.
The trouble is, Lucas isn't the only one who has fallen for Ronnie. When her stalker finally emerges from the shadows, Luke will have to fight for his redheaded angel. In the end only one of them can possess her, but who will be the victor...her champion or the dark-hearted wolf?
 **Publisher's Note: This story was originally released as part of the "Seduction at Midnight" box set
.
As an AmazonAssociate I earn from qualifying purchases.
Published:
03/29/2015
Genres: