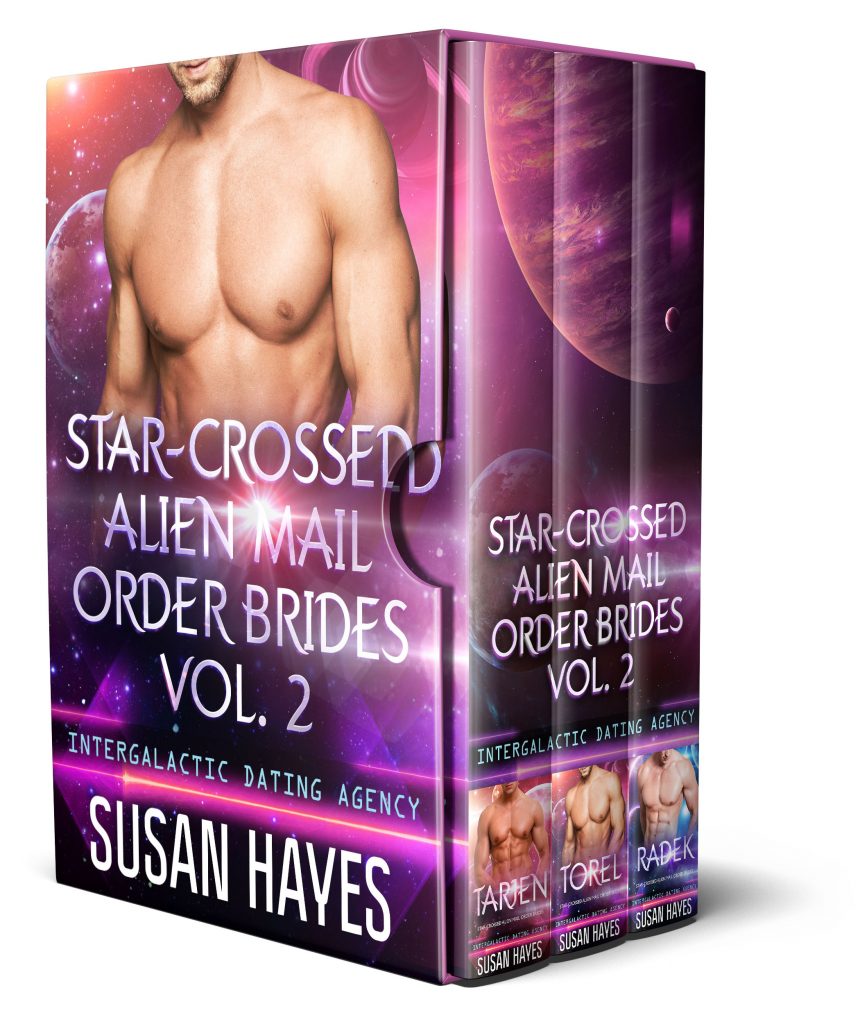 This collection includes Books 4-6 of the Star-Crossed Alien Mail Order Brides series: Tarjen, Torel, and Radek. Join these three alien males as they go in search of love on the far side of the galaxy, on a primitive planet the resident lifeforms call Earth.
What do you do when your planet runs out of women? Send for takeout, of course. 
Tarjen
Tarjen never expected to go to Earth again. The first time, he was there to protect Crown Prince Joran as he claimed his mate and returned her to Pyros. This time, Tarjen is on his way to claim a mate of his own.
This book contains a single mother who doesn't believe in happy endings, and a royal bodyguard who does everything by the book – until the universe blows up the book, his plans, and part of a city block.
Torel
 Torel is the best medical officer in the Pyrosian fleet, but being the best comes with a cost. When the queen orders him to apply to Star-Crossed Dating, he's relieved when there's no match for him among the human females of Earth. He doesn't have time for that kind of distraction.
This book contains a widow determined to never fall in love again, and a doctor who is about to discover that when it comes to the heart, he's still got a lot to learn.
Radek
Radek is a prince with a problem. He wants to see the galaxy, but an ancient law forbids any member of the Romaki Dragon Clans from ever leaving their planet. So, what's a Romaki Snow dragon to do? Defy the law, hop a ride with a friend, and head for the far side of the galaxy, that's what.
This book contains a sassy chef whose dreams just went up in flames, and a runaway prince who came to Earth looking for answers - and found his destiny instead.
**As an AmazonAssociate I earn from qualifying purchases**