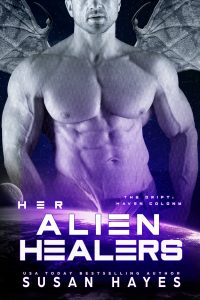 She's ready to move on to the next chapter of her life — She just never expected it could be a love story.
Jody Clark has been many things over the years: a doctor, a wife, and a divorced single mother. Now, there's just one more thing she needs to do – for once in her life, she's going to put herself first.
An unexpected invitation to Haven colony comes at the perfect moment. A new home and new challenges are just what she needs to kick-start her time of self-discovery. At least, that's what she thought…
Haven isn't as peaceful as its name implies. There are hidden threats, secret societies, and most dangerous of all, a pair of sexy alien silver foxes that are as alluring as they are off-limits.
Two alien healers who cannot mend their broken hearts are about to meet the cure…
Tariq and Sulat are Vardarian anrik, blood-bound brothers destined to share their lives, a family, and a mate. When a tragic accident claimed the life of their mahaya, grief shattered their lives and ended their hopes for the future.
Joining the exodus to Haven seems like the best way to move forward and rebuild what remains of their family. Their new home is indeed a haven, but one under threat from outside forces and the pressures of traditions best left in the past.
Three healers willing to risk their lives to protect their patients… but do they have the courage to risk their hearts?