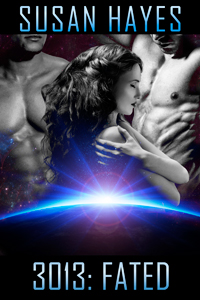 Part of the
3013:
series:
Rebel medic Ciara Fanning has called the badlands home for more than a decade. Raised in the Alliance, she spent the first half of her life defined by what she wasn't—fertile, valued, deserving of her family's love. Now, she lives beyond the Alliance's reach and defines her worth by the lives she's saved and the people she's healed.
Alliance Elites Dr. Vance Sterling and Dane Foster live for the joys of raising their daughter, Annie. It's been more than two years since they buried Annie's mother,  but neither man has been ready to move on… until they meet a redheaded rebel with no place to stay and a heart as battered as their own.
Dane and Vance have dedicated their lives to defending the Alliance way of life while Ciara has dedicated hers to helping those who live outside Alliance lands. Can they heal old wounds and forge a new life together, or will the dark ghosts of the past steal their future before it's even begun?
As an Amazon Associate I earn from qualifying purchases.
Published:
11/18/2015
Genres: