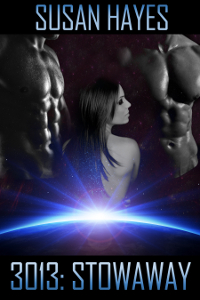 Part of the
3013:
series:
Sonja Grekov has spent her life in a gilded cage, trapped by her wealthy family's expectations and the scroll tattoo on her face that declares her to be one of the coveted fertile women on Earth. No longer willing to be a pawn to further her parents ambition, she finally finds the courage to break free before she can be claimed in a loveless match. She is determined to set her own path, but never expected where it would take her...
Trevar Storm and Deacon Wilde are Alliance Elites, but there's nothing elite about their current assignment. They crew one of the oldest freighters in the fleet, ferrying goods across Alliance controlled space with just each other for company. With a reputation for trouble and no chance at promotion, the two men are planning for the day they can go into business for themselves and leave their military lives behind.
A straightforward supply run turns into a life changing event when the two elites discover a treasure hidden in their cargo bay. Keeping their sexy stowaway may bring the full wrath of the Alliance down on their heads, but Trevar and Deacon won't let her go without a fight. Will their journey end in heartache, or can three misfit hearts find love in the darkness between the stars?
As an Amazon Associate I earn from qualifying purchases.
Published:
07/14/2014
Genres: