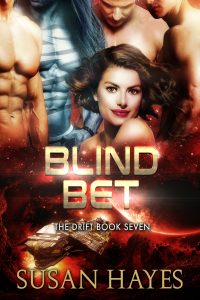 n 2013, I wrote my first sci-fi romance – a racy tale entitled Blind Bet. Later, that story became the inspiration for an entire world filled with aliens, cyborgs, romance, and adventure – The Drift.
The rights to Blind Bet reverted back to me late in 2018. It's been revised, re-covered, and today it finally takes its place in the Drift series line-up.
****
Some rules were made to be broken.
Layla Corbin loves her life as a technician on the deep space asteroid-mining ship, Kessel Queen. Great job, great companions, great money. Perfect, except she wants all four of her sexy crewmates. The rules of the ship state she can only have one – an impossible choice.
When Mace issued that order, he did it to protect his crew. He never imagined that they'd all fall for Layla.