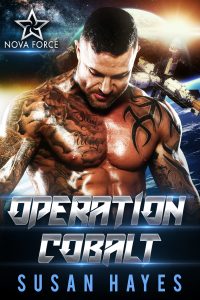 He's looking for a fight. She's looking for a hero.
Sergeant Dante Strak hasn't always fought for the right side. Now that he's part of Nova Force, he has a chance to make up for the mistakes of his past. After years of fighting, Dante believes he's ready for anything the universe can throw at him…until a sexy, stubborn doctor crashes into his life and changes everything.
Dr. Tyra Li is on Bellex 3 to help combat the arrival of cobalt, a new designer drug that turned half the population into addicts almost overnight. When a brazen attack turns her mission of mercy into a fight for survival, a split-second decision leads to unexpected consequences, and a chance at a future she never imagined.