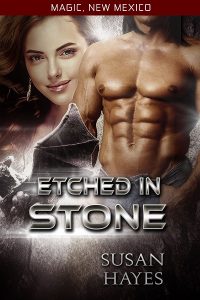 Three years ago I was invited by S.E Smith to take part in a new project, something called a Kindle World. I joined in and became one of the first authors to write in the Magic, New Mexico Kindle World.
I wrote Etched in Stone and released it into Kindle Worlds. At the time, those books were only available to those who shopped at Amazon in the US. Those were Amazon's restrictions, and I had to live with them. Now, Kindle Worlds has been shuttered, and the rights to Etched in Stone reverted back to me. I'm very happy to announce that this story is now available everywhere, on all platforms, and is still part of the Magic, New Mexico world.
*****
Adina thought she bought a new statue for her collection. Fate sent her a soulmate instead.
Stone has been alive for centuries but he's never truly lived. Created by magic, he was duty bound to watch over the Drummond family and guard them with his life. Now, his last master is dead and there's no one left to protect. Instead of gaining his freedom, Stone finds himself locked in his granite form, a living mind trapped inside a statue. Lost in despair and on the verge of madness, the days blend together into one everlasting nightmare…until he begins to dream of her.
Adina Diggersby lives for her art. Sculpting stone is her passion, one that keeps her busy enough she rarely has time to mourn the one thing missing from her life, someone to share it with. The last thing she ever expected was for her newest purchase to come to life and inform her he was her new protector.
Adina won't rest until Stone is free of the spells that enslave him, but unraveling the dark magic that created him will come at a price. Are these two souls doomed to be forever alone, or is their love strong enough to be etched in stone?