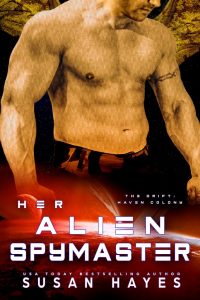 She went into cryo-sleep a prisoner and woke up free…
Skye thought freedom meant she could make her own choices. What to eat, where to live, and who she'd love. She's learning that life doesn't work that way, and fate has a mind of its own.
The cynical veteran spymaster wasn't the male she'd have chosen, but he's the one she's destined for… Except he doesn't believe she is his mate. In fact, he's certain he can't have one at all.
A spymaster lives for duty – no possessions, no attachments – and absolutely no mate.
Yardan has lived by those rules since the day he took his oath. His duty is to advise and protect Prince Tyran and Haven colony, and lately he's failed them both. He needs to redeem his honor and uncover the mole in their midst, but first he has to deal with a beautiful cyborg who insists they are destined for each other.
Skye is smart, desirable, and a distraction to his investigation. Could she also be the spy he's hunting for? Or is she something more dangerous? Like the mate he is forbidden to have…
Enjoy your sneak peek and read Chapter one now, or Buy it today.