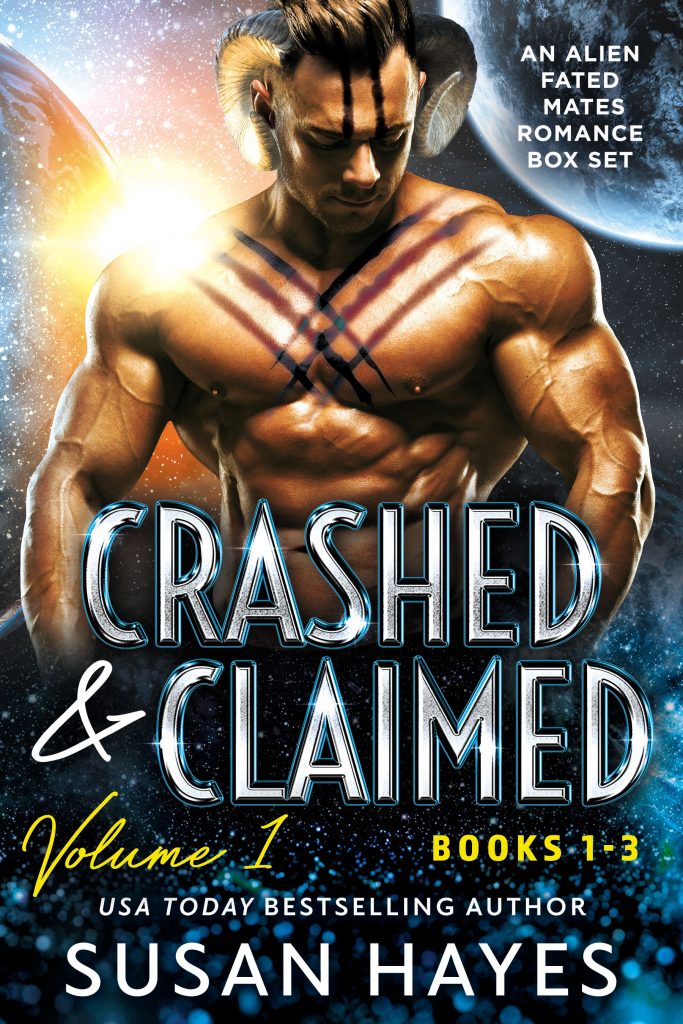 First they crashed… then they were claimed.
Buckle up. These sci-fi romances contain aliens with fur, fangs, horns, and a very possessive attitude when it comes to the women they claim for their own.
  Rage
It was supposed to be a delivery run… How did it turn into a prison break?
All Mercy had to do was deliver her cargo and go. Now she's got a bunch of irate aliens on her tail and a hot-as-Helios escaped prisoner in her cargo bay who insists she is his. She's too old for this crap, and she keeps telling herself she's too old for him, too. But his arguments and his… assets are very convincing.
If they're going to survive this intergalactic crisis, she's going to need a plan… and her hot, horned, and handsome alien passenger is going to need some clothes.
Mayhem
Her last shot at love just crashed and burned… literally.
 Bella signed up for the interplanetary courtship cruise hoping for travel, adventure, and maybe a chance at romance. Now she's crash landed on a strange planet with no one around but a horned alien hottie who showed up and laid claim to her gear, her ship… and her.
He's too brash, too pushy, and much too young for her. He's also not taking no for an answer…
This wasn't the adventure she imagined, but it might be the romance of a lifetime, if she can stay alive long enough to enjoy it.
 Strife
It was supposed to be the trip of a lifetime… now she's just trying to stay alive.
 Rissa can't believe her luck. She won an all-expenses paid trip on a luxury matchmaking cruise. She's not looking for love, but a few weeks of five-star pampering while seeing the galaxy sounds perfect… until it all goes wrong.
Abandoning ship wasn't on her itinerary, and neither is the growly but oh-so-sexy alien who is half convinced she's the enemy, and utterly certain she's his. She's got a list of the reasons they're wrong for each other, but when they're together, everything just feels right.
Crash landing on a prison planet may not be the vacation she dreamed of, but it might turn out to be the best "worst" day of her life.