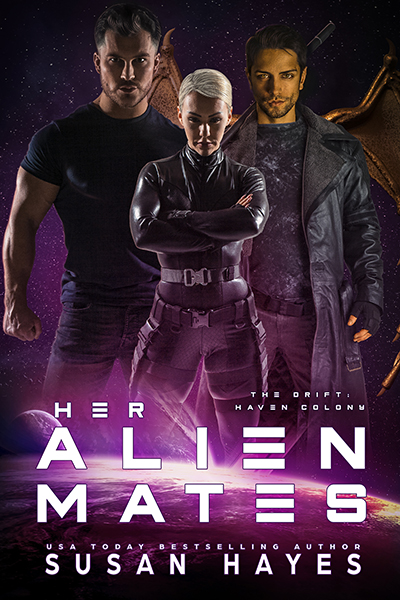 Welcome to the Drift: Haven Colony
She'd dreamed of being free to make her own decisions – but when the time comes to choose a mate, she can't pick just one…
Haven colony has everything a newly freed cyborg could hope for. After a life of violence and forced obedience, Shadow is finally free to make her own choices. But freedom comes with its own challenges – and hers include a pair of sexy as fraxx aliens named Denz and Kade.
He wants her – but it's complicated.
After an assassin killed his best friend, Denz needs a change. Haven offers him a new life and a chance to finish the work his friend started. He's making plans, setting goals, and trying to keep things simple.
Then Shadow arrived, and simple went out the fraxxing airlock. He's been drawn to her since the beginning, but there's one thing standing in his way. She's not the assassin who murdered his best friend, but she wears the same face.
He lost his anrik, and any chance of a mate long ago...
Kade is close to having it all. One last debt to pay off, and all his mistakes will be behind him. It's all coming together until he sets down in a backwater colony and catches wind of the impossible – his mate.
When trouble comes to Haven, all three will have to make a choice – protect their hearts, or protect each other, no matter the cost.
**Her Alien Mates is now available on pre-order. Google Play will be added to to the pre-orders closer to release day.