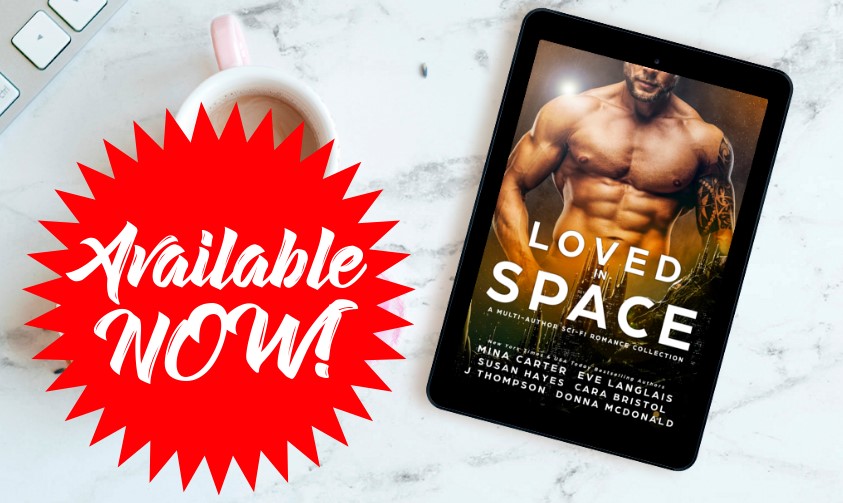 AVAILABLE FOR A LIMITED TIME ONLY
Six BRAND new stories of love and romance among the stars by NYT & USA Today Bestsellers Mina Carter, Eve Langlais, Cara Bristol, Donna McDonald, Susan Hayes and J Thompson.
Woken by a kiss, she didn't expect her prince to be a handsome alien warrior. Kissed by the Alien Mercenary: Warriors of the Lathar by Mina Carter.
Clarabelle isn't about to take orders from anyone. Not even the alien hottie who has a disturbing tendency of shifting into a giant lizardman. Mate Abduction by Eve Langlais.
When a dating agency claims to match Earth women with extraterrestrials, fraud investigator Cyan Blue goes undercover as a client to expose the scam. She's not interested in finding love and certainly not with a pretend alien! KRASH: Dakonian Alien Mail Order Brides by Cara Bristol.
No risk. No reward. When time runs out, she'll have to make a choice that will change her life forever… Chance of a Lifetime by Susan Hayes ~ A story from the Drift Series.
Bethany Walker lost everything the day she watched her husband die. Trapped in a bitter cycle of loneliness and grief, the arrival of a gorgeous cyborg with a familiar face changes everything. Betraying Ko'ran by J Thompson.