Eternal Bonds, a sexy vampire menage romance, is now available in ebook and print.
What could a centuries-old Scottish vampire and a Texas cowboy have in common?  A friendship that spans decades, and a beautiful woman named Tabitha.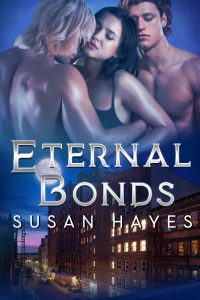 Duncan Masterson has a secret. To keep it, he's got a few simple rules. Stay away from sunlight, never drink from the unwilling, and never, ever get involved with mortals.  It was working, until the night he finds a lovely co-worker dazed and bleeding from a vampire attack.
After decades as Duncan's guardian, Jared Evans has shared almost everything with Duncan, even regular doses of Duncan's blood to extend Jared's life. The only thing they've never shared was a woman…until Tabitha.
Rocked by revelations and faced with temptations she never imagined, Tabitha Blacke is flung headlong into a world full of danger, monsters, and two men who want to claim to her for eternity.
**Publisher's Note** This book was previously released with the same content and title. It has been released with a new publisher and cover.**