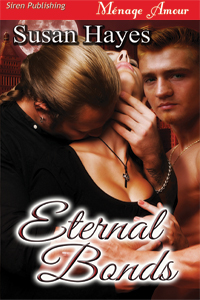 Three hearts, one threat, no turning back.
Duncan Masterson lives apart from his vampire brethren and has vowed to never bring another mortal into his dark world. Only his fiercely loyal human guardian, Jared Evans, knows the truth about who and what he is.
For nearly a century Duncan has held fast to his vow, until the day he finds the beautiful Tabitha Blacke lying dazed and bleeding after a rogue vampire attack. Duncan realizes he must break his vows in order to protect her from the evil that is prowling his territory.
When both Duncan and Jared find themselves falling for their lovely houseguest, they decide to claim her together, forging bonds that will change all of their lives forever.
As trouble drawls near, their bond will be tested and sacrifices will be demanded of them all. The two men know they'll do whatever it takes to keep their beloved Tabi safe, but will their love be enough
Published:
07/30/2013
Genres: