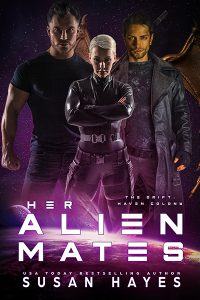 She dreamed of being free to make her own decisions. When it comes to a mate, why must she pick just one?
Haven colony has everything a newly freed cyborg could hope for. After a life of violence and forced obedience, Shadow can finally make her own choices. But freedom comes with its own challenges – and hers includes a pair of sexy as fraxx aliens who both lay claim to her heart.
He wants her – but it's complicated…
After a tragedy, Denz needs a change. Haven offers him a new life, a chance to finish the work his friend started, and enough work to keep him from thinking about everything he lost… until Shadow arrives at Haven.
She's everything he's ever wanted, smart, sassy, and heartbreakingly beautiful. There's just one problem. She's not the assassin who murdered his best friend, but she wears the same face.
He lost his anrik and any chance of a mate long ago…
Kade is close to having it all. One last debt to pay off, and all his mistakes will be behind him. He just has to live with the mistakes of his dead anrik… the one that condemned him to a lifetime alone.
Everything changes when he sets down in a backwater colony and catches wind of the impossible – the mate he wasn't supposed to have.
When trouble comes to Haven, all three will have to make a choice – protect their hearts, or protect each other, no matter what the cost…
Check out a sneak peek at Her Alien Mates! Chapter one is available HERE
Grab your copy today: https://books2read.com/u/m2Zk01