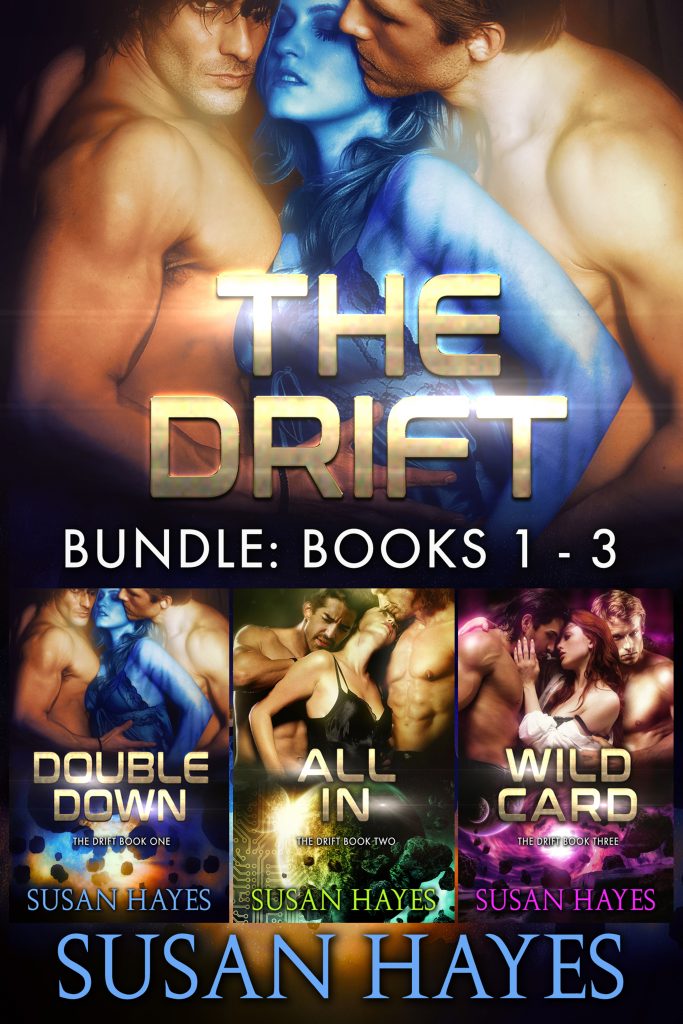 Cyborgs, aliens, intrigue, and romance… Welcome to The Drift.
This box set includes books 1-3 of the Drift Series:  Double Down, All In, and Wild Card.
Book One: Double Down
Cyborgs Kit and Luke are determined to carve out a place for themselves in a galaxy that still sees them as corporate-owned killers. They're more than machines—they're men, and they both want the same woman - a blue-skinned beauty with a mysterious past and a heart big enough for two.
Book Two: All In
The Resource Wars may have ended, but the cyborgs are fighting a new battle now—one for acceptance. Cyborgs Toro and Jaeger have been all over the galaxy, looking for a place to call home. The Drift offers them more than they dreamed of… including a chance to win the heart of the most beautiful woman they've ever seen. Their new boss, Cynder.
Book Three: Wild Card
 Cyborgs can heal from almost anything—except a broken heart.
Mack and Dash thought they'd lost their one chance at love, but a near-death experience brings Lieksa back into their lives. Finding her again was the easier part. Letting her into their hearts again will be the hardest mission of their lives…
**We are a participant in the Amazon Services LLC Associates Program, an affiliate advertising program designed to provide a means for us to earn fees by linking to Amazon.com and affiliated sites.**