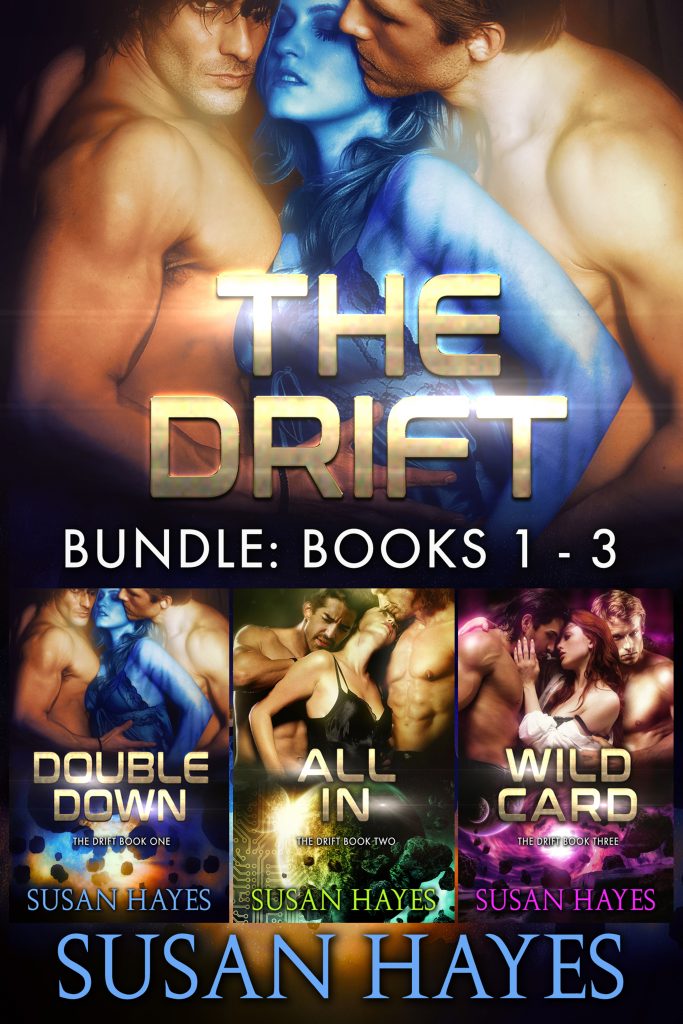 ***Three steamy cyborg romances from the Sci-fi romance series, The Drift***
Out on the edge of civilized space is a rag-tag collection of space stations and platforms known as the Drift. It's a haven for the hunted, the lost, and those seeking second chances. The ones who live there hail from every species, class, and corner of the galaxy, but they all have one thing in common: they don't belong anywhere else.
It's a world of its own. One where corporations rule, the laws are flexible, and everything is for sale, for the right price.
Welcome to the Drift.
Book One: Double Down
When it comes to love, sometimes the best bet is to double down. 
Kit and Luke Armas are cyborgs created for one purpose, battle. Now that the war is over, they must fight to carve out a place for themselves in a universe they were intended to die for but never be a part of.
Book Two: All In
When love is the prize, the only way to win is to go all in.
The Resource Wars may have ended, but for the cyborgs created to fight in them, the battle for acceptance is far from over. Former soldiers Toro and Jaeger have been on the move since they left military service. They're looking for more than their next payday; they want to find a place to call home.
Book Three: Wild Card
The game of love can change in a heartbeat when fate deals you a wild card. 
Technician Lieksa Kiv saw firsthand what the corporations did to their cyborg soldiers during the Resource Wars. Her job: repair their damaged cybernetic components and send them back into battle. When a stolen kiss reveals the truth about her charges, Lieksa sacrifices everything to protect the cyborgs' secret, including a future with the men she's fallen for.